This week's
Fiction Friday
prompt is: Without it up, use the word Intaglio in your fiction friday entry.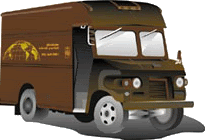 The doorbell rings. I peek out of my window, hoping to see the big brown UPS truck I've been waiting for the last few days. I jump up in joy when I spy the bare white legs under the tell-tale brown shorts of the driver walking briskly away. I wonder if he has a choice of shorts or pants and actually chooses the ridiculous shorts. I push that random thought out of my head to run down and get the treasure my little short-clad elf has left me.
My Intaglio is finally here. I had ordered it the first day it was available to the American market. All the articles about it, first in the Italian press, then in the American press raved about it. I couldn't wait to see it, hold it, touch it. I couldn't believe that it was mine.
My friends told me that I was crazy to spend so much money on an Italian gadget. They tried to get me to change my mind, to use the money to go on an exotic vacation, but I could not be swayed. I knew the Intaglio would change my life.
The package was satisfyingly large, but it was devoid of any flashy branding, except for its unusual midnight black color. I bent down to pick it up and had to kneel down as it was heavier than I imagined. I carried it into the house, grunting with effort, but being extremely careful not to drop my $5000 loot. I was going to be eating a lot of plain pasta dinners to help my budget recover; I didn't want to break it before it had a chance to revolutionize my life.
I grabbed the scissors from the drawer and sliced open the box. I slowly slid the shiny black machine out of its styrofoam prison and placed it triumphantly on my counter. My decrepit little kitchen was transformed by the magnificent Intaglio.
I plugged it in and grabbed the porcelain espresso cup I'd purchased just for this occasion. I easily found the drawer for the coffee beans, poured in the water, and pressed the espresso button. The Intaglio came to life with thrilling hissing noises. The gleaming computer screen next to the espresso icon flickered, and turned on, revealing the face of a gorgeous Italian man. He was my Intaglio match of the day. He flashed me a dazzling smile and his "bonjourno bella!" was crystal clear on the state of the art speakers.